This one gets into the biology of extinction, especially in comparison to its presence in broad, pervasive popular culture and ideology. Rarely has so much been wrongly inferred from so little, and I find I have to teach it from the bottom up, no matter who's in the classroom. As usual, there are two levels of confusion: the larger, social one, and the within-biology one. I'll be dealing mainly with the latter, which underwent a serious review right at the time that I was deciding to get into evolutionary biology as a career.  If you don't mind a little support reading, check out Adapt this and New Synthesis zaps.
That's an easy point to muddle. We belong to a high-risk extinction group by being a big, anatomically-derived social mammal. Among our group, though, H. sapiens was and is less-risk because of its broad geographic distribution and generalist diet and climate tolerance. So if any of us were to make it through the Pleistocene, it'd be that one.
I hope you can see that it's not a process, or any component in a cycle, or any sort of other systemic phenomenon. It's an outcome that occurs due to at least one of a huge, uncountable number of completely understandable, physical ways to wind up there. A species' exact selective history plays into the probabilities, but selection as such isn't acting as a preventative measure. At the philosophical or narrative level, I stress that a species doesn't go extinct when it "does something wrong," or when "it's just its time to go," or for anything.
That goes double if you over-interpret the process of selection as being for anything.
One important mental illusion to dispel is the notion of replacement by one's direct descendant, or the notion that species X "makes way for" or is "beaten out" by the species which has evolved specifically from it.
But even if extinction isn't about direct descent-and-replacement, isn't it about the stronger species surviving? Nope. I know why people held onto that, though – natural history does offer a couple of cruel traps to lead you that way if you're inclined.
That needs a bit of clarifying – the interaction between northern and southern mammals of the Americas should get a post of its own and I don't mean to say there was no competition in the community-ecology sense of the term. However, it was an event of mammalian history, not a defining or archetypal one.
Community ecology is endlessly fascinating and endlessly aggravating; its practitioners seemed bound and determined to arrive at non-contingent models for exactly what would happen, always. The "superior species prevail" model was well-established a century ago when Georgy Gause ran his test-tube bacterial trials and posited the concept of competitive exclusion, and the concept stuck hard. Even when field research suggested that overlapping species with similar resource needs tend to spread out into mosaic distributions rather than battle it out to the finish, and also that actual competition was not the likely mechanism leading to those distributions, the textbooks wouldn't let it go. (here – see how tentative and hesitant the challenge is)
Now for the two types of extinctions: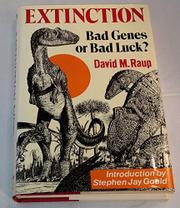 In retrospect, it's cool to remember that Raup's ideas about mass extinctions – amplified by Gould's columns in Natural History, collected in his books -were arriving at the same time as the big revision of understanding dinosaurs physiologically, specifically, endothermic based on varying definitions of the term, and not great big addled lumps of failed stupidity. Don't forget that the Chicxulub Crater was discovered in the late 1970s, lending immense credence to reincorporating catastrophism into our understanding of geologic, evolutionary time, and helping to dispel the blame-the-victim narrative for the events of the K-T boundary.
At the time, it seemed as if mass extinction were the more challenging concept, and its explanations are painstaking to overcome the historical assumption of gradualism-and-nothing-but. However, it didn't really have much trouble penetrating either scientific or popular level. Background extinction, on the other hand, tends to get less attention. On the one hand it's simply the Rule of Explosions in action; y'know, if this thing explodes and this other thing doesn't, we tend to want to check out the first. On the other, I suspect the concept of background extinction is (i) challenging story-oriented interpretations of evolution that people are still reluctant to release, and (ii) inherently disturbing.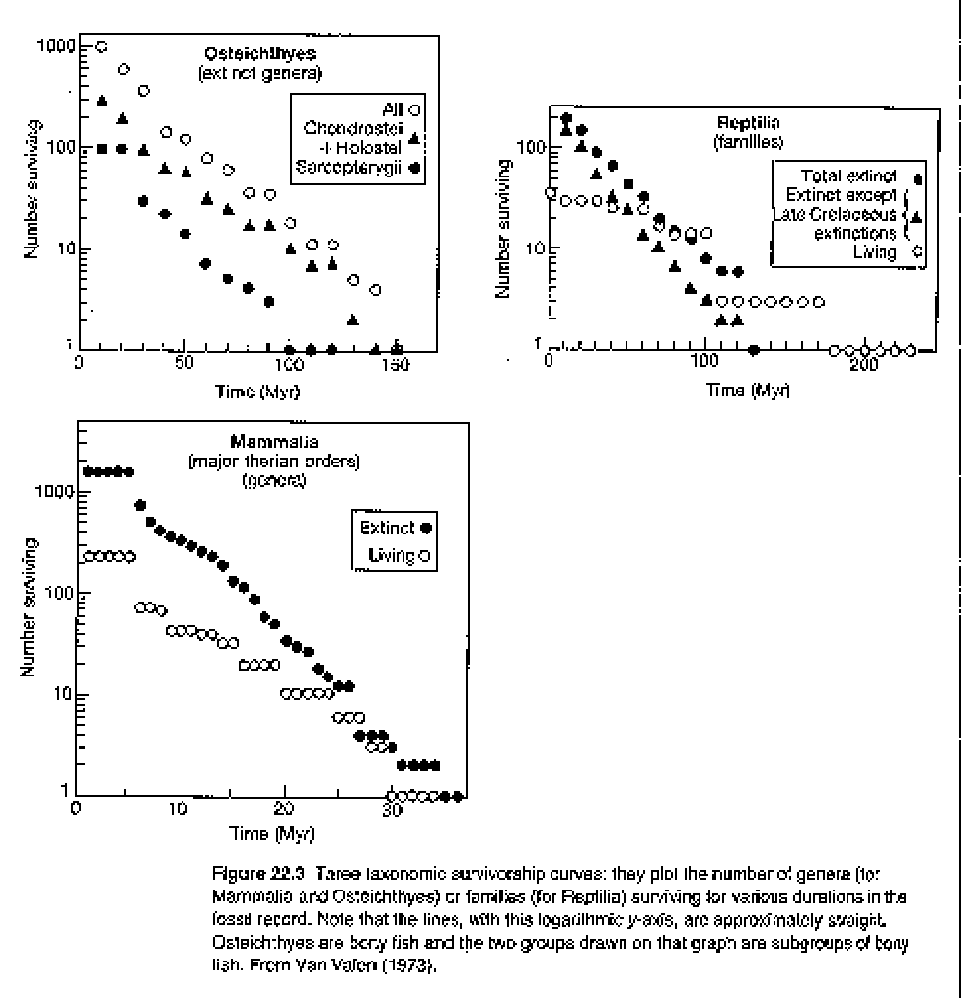 Here's a bio bumper sticker for you: every living thing is a living fossil. The relevant scientist to credit here is the incomparable Leigh Van Valen.
One of the biggest problems is matching the neutral and non-directive observations about background extinction to the question of ecological policy. Pound for pound, conservation efforts have managed the biggest social impact through sentimentality: showcasing a really cool creature (i.e. easy for humans to empathize with) and warning that it's about to go extinct. As outreach, one can only say "it works," but as genuine policy-making relative to scientific knowledge, it's unstable ground. It pitches extinction as a terrible wrong, something that would never happen to this creature without human impact … so saying "species go extinct all the time" undermines the message and gets taken as an endorsement of not trying to save this one or (more importantly) this one in the context of its habitat. One can certainly acknowledge the reality of background extinction and support specific conservation efforts especially in circumstances of human impact, but in the world of soundbites, which has always been the world of legislative effort, using whatever technology, that lacks the fundamentalist ker-clunk of naturalism-to-principle-to-action that makes things happen.
Here's a last detail to nail down the lid on this whole "selection saves the species" romance.
The final concept to disintegrate in the light of these concepts is yet another cherished narrative – the notion that evolution, and specifically natural selection, is something to do with carrying on the species. That the persistence of a species for one generation more is somehow an imperative – whether physical drive, or moral responsibility, "Nature," however you want to cast it. That species extinction is the "evil" being avoided by ecological and selective phenomena as a version of the medical model, that death is the "evil" being avoided by the virtues of good hygiene or medical tech.
It's an interesting world when you look at it without that exact story playing in your head.
Next: A wonderful day in the neighborhood